Title
Recent trends in silk research - Various uses of silk other than fiber
Speaker
Katsura KOJIMA
Principal Researcher, Silk Materials Research Unit
Division of Biotechnology, Institute of Agrobiological Sciences, NARO
Contents
Silk (silk thread) made by silkworms has been used for woven fabrics and as high-grade fibers since ancient times. In recent years, silk proteins have been used as natural resource for developing processing new materials such as films, sponges, gels, powders, etc. In this public lecture, utilization of silk proteins, development of new silk materials and new silk fibers using genetically modified silkworm will be introduced.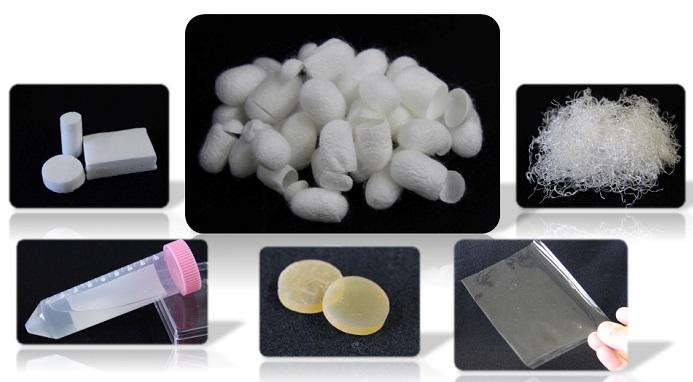 Various materials developed from silkworm cocoon (middle) and raw silk (right) include film, soap, aqueous solution, and sponge.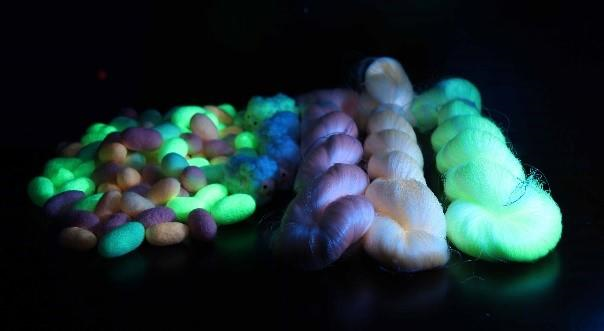 Fluorescent silk produced by genetically modified silkworms.
Special mention
This lecture will be held as a joint lecture forum with the Japan Senior Venture Support Organization (J-SCORE). Please check here for further details Guide brochure(japanese) [PDF: 163.1 KB].
Time
November 18, 2017 (Sat) 13:30 - 17:00
(The above lecture is about one hour.)
Participation Fees
2000 yen (participation fee for joint lecture)
How to apply
From the J-SCORE website (http://www.j-score.or.jp/)
(Limited to first 40 people.)
Venue
Minato-ku New Commerce and Industry Center
1-4-28 Coast, Minato-ku, Tokyo)
For Inquiries
Public Relations Section
NARO Headquarters