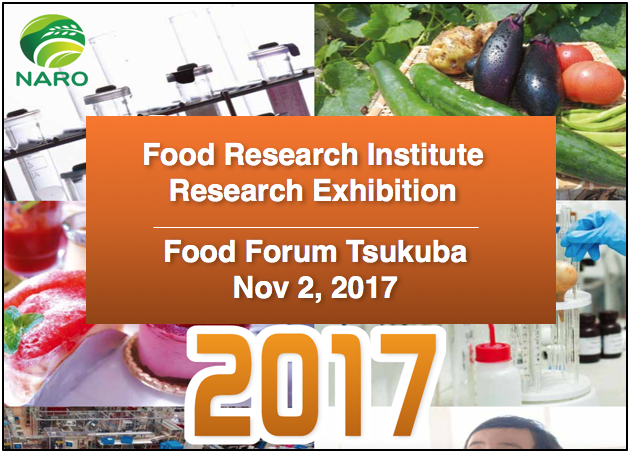 Objective
The Food Research Institute, NARO (NFRI) is engaged in research to ensure food safety, consumer confidence and healthy diet, and research on technology development towards the formation of a low-carbon resource recycling oriented society. In addition to being a research base of industry, government and academia in Japan, NFRI is trying to become a more open and dynamic research institution with an international perspective. In this exhibition, the most recent research achievements of NFRI and related information will be explained by researchers directly involved in the research. This exhibition will serve as a venue for exchanging information with researchers and engineers from research institutes, local governments, and food companies, and a catalyst for strengthening collaboration, promoting collaborative research, and developing new businesses among various stakeholders in the food industry.
Organizer
Food Research Institute, NARO
Date & Time
Nov 2, 2017 (Thu)
9:30 ~ 16:00
Venue
Tsukuba International Congress Center (Epochal Tsukuba)
Takezono 2-20-3, Tsukuba, Ibaraki
Program
09:30~16:00 Poster Session at the Multi-Purpose Hall
10:00~12:30 Open Forum at the Convention Hall 200
Entry Fees
Free. No need for pre-registration.
For Inquiry
E-mail: nfri-event@naro.affrc.go.jp
Tel: 029-838-7980、FAX:029-838-8005
External Link
Poster
http://www.fft.gr.jp/page/topics/tenjikai_h29/naro_20171102.pdf (Japanese)