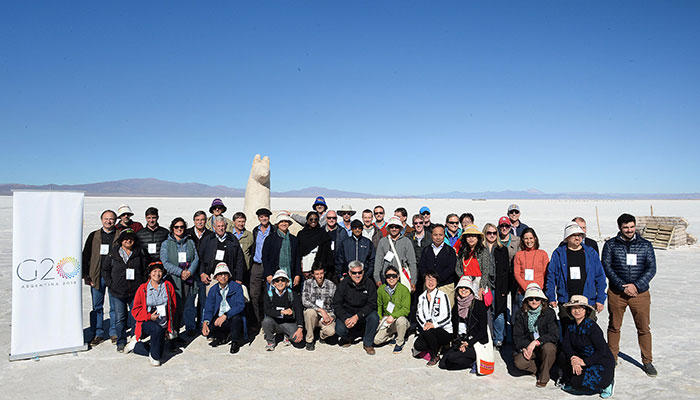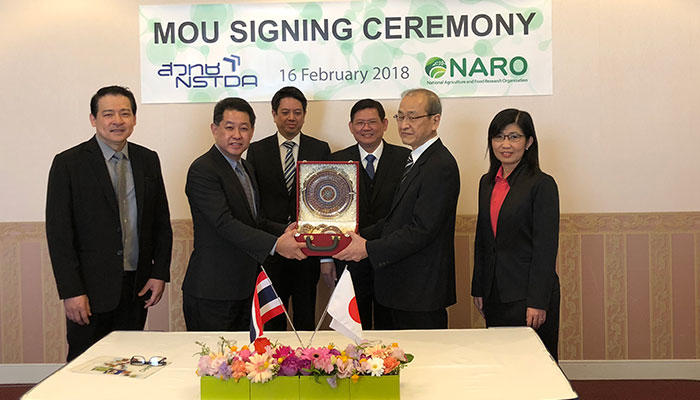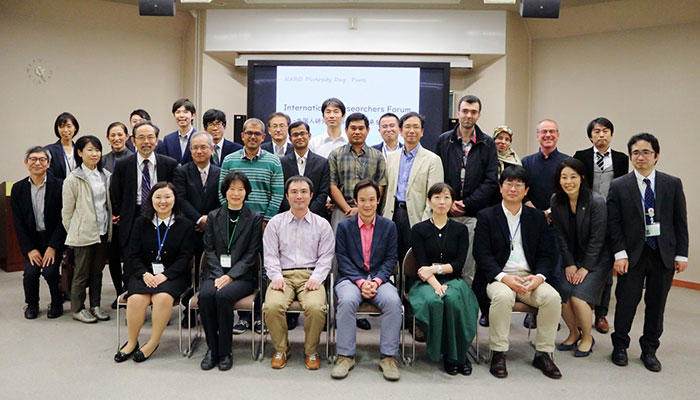 NARO aims to strengthen partnerships and collaborations with international organisations to promote various research initiatives in agriculture, food and the environment. As part of this effort, the International Relations Office is assigned to consolidate various global initiatives such as fostering international partnerships for collaborations, exchange of researchers and other programs, organise symposiums and workshops, and exploring opportunities to promote Japanese agricultural products in the world market.
NARO is actively developing international partnerships with overseas research institutes in the Asian region and European countries, and research institutes under the Consultative Group on International Agricultural Research (CGIAR) through the conclusion of memorandum of understanding (MOU) on comprehensive research cooperation. NARO holds symposiums, seminars and workshops with major collaborating institutes to promote interactions among researchers and to encourage substantial discussions on major issues facing the research initiatives on agriculture, food and the environment. The International Peer Review Program is organized to facilitate external evaluation on the quality and direction of specific NARO research programs.
What's new
International symposium on climate change co-hosted by NARO and FFTC held successfully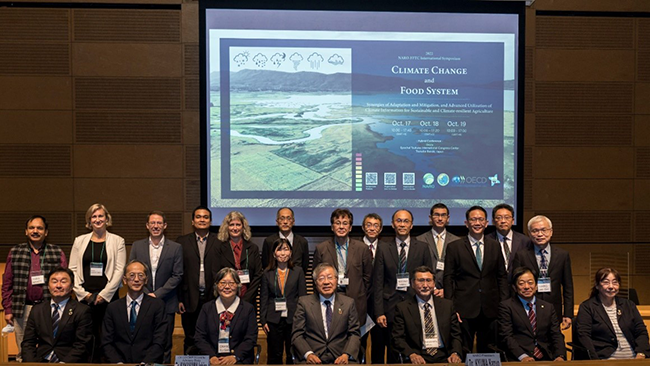 On 17th-19th October 2022, NARO and the Food and Fertilizer Technology Center for the Asian and Pacific Region (FFTC) jointly hosted the NARO-FFTC International Symposium " Climate Change and Food System - synergies of adaptation and mitigation, and advanced utilization of climate information for sustainable and climate-resilient agriculture" co-sponsored by OECD-CRP in hybrid conference style (on-site venue: Tsukuba International Congress Center), with approximately 655 participants from 18 countries.

Report on NARO 1st International Symposium on Food and Health "Food Science to Market, from Local to Global"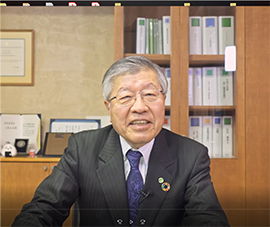 NARO 1st International Symposium on Food and Health "Food Science to Market, from Local to Global" was conducted on March 1 and March 2, 2022.

NARO Scientist contributes to writing and compilation of IPCC-AR6-WG2 Report as CLA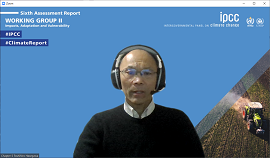 The Intergovernmental Panel on Climate Change Sixth Assessment Report of the Working Group 2 (IPCC-AR6-WG2 Report) was published on 28 February 2022 .

Dr. NAKATANI Makoto, the Senior Vice President of NARO, gave a presentation on "Realize sustainable systems that improve resource utilization efficiency with Society 5.0" at the STS forum Russia-Japan workshop 2021"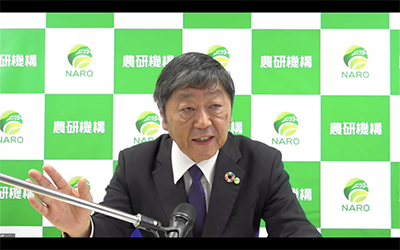 The "Russia-Japan Workshop" of the STS forum (Science and Technology in Society forum) was held online on December 8, 2021.

NARO & IEEE SA Joint Workshop held successfully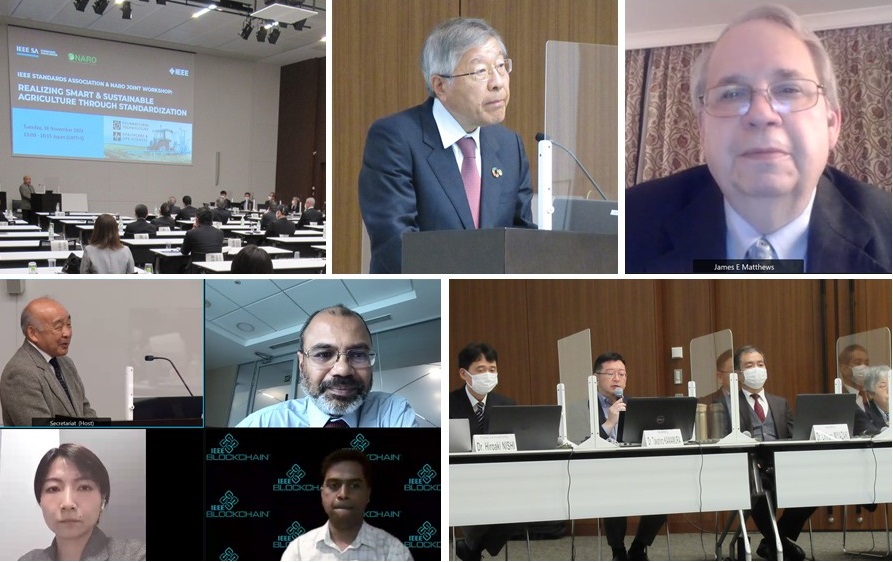 On Tuesday, November 16th, 2021, the international workshop "Realizing Smart & Sustainable Agriculture through Standardization" was jointly organized by NARO and Institute of Electrical and Electronics Engineers Standards Association (IEEE SA).

Extension of MOU with France's National Research Institute for Agriculture, Food and Environment (INRAE)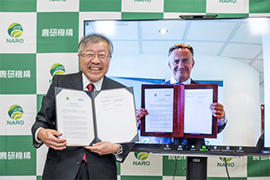 NARO has signed agreement to extend MOU with France's National Research Institute for Agriculture, Food and Environment (INRAE) online on November 15, 2021 to further strengthen research cooperation. NARO President, Dr. KYUMA Kazuo and INRAE Chair and CEO Mr. Philippe Mauguin have confirmed the continuation of the cooperative relationship in the future.

President KYUMA gave a keynote speech "Toward the Development of Sustainable and Resilient Agri-Food Systems in the Asia-Pacific Region"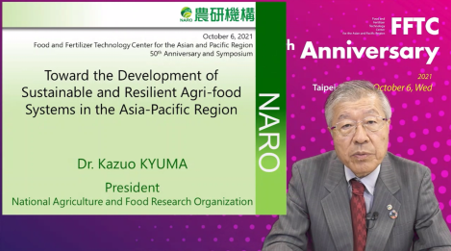 NARO President Dr. KYUMA was invited to deliver a keynote speech at a partner institute FFTC's 50th anniversary symposium on October 6th, 2021. His speech consisted of international situation surrounding agriculture, NARO's researches, Japan's Science, Technology and Innovation Policy and efforts to realize Society 5.0 in Japan's agriculture and food fields.

NARO-FFTC Joint International Symposium 2021 held successfully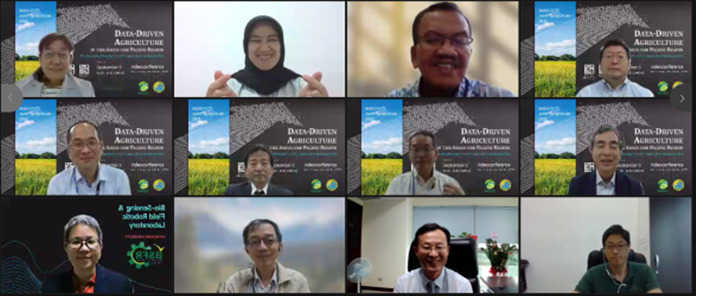 On Friday September 3rd, 2021, the international symposium "Data-Driven Agriculture in the Asian and Pacific Region -To ensure productivity and sustainability", jointly organized by NARO and FFTC, was held online.
The aim of this online symposium was to build a platform in the Asian and Pacific region for smart agriculture technology development and further accelerate Sustainable Development Goals (SDGs). There were 588 participants from 31 countries.