Yellow-green fleshy premium grape cultivar
The new table grape cultivar 'Shine Muscat' is a diploid derived from Vitis labruscana Bailey and V. vinifera L. It has large yellow-green berries, crisp flesh texture, muscat flavor, high soluble solids concentration and low acidity. Its seedless berries can be commercially produced by applying gibberellic acid treatment to flower and fruit clusters in full bloom and 10 to 15 days after full bloom, respectively. Like the grape cultivar 'Kyoho', its vine and fruit clusters seem to be fairly tolerant to fruit ripe rot, downy mildew, and powdery mildew although it is sensitive to anthracnose. Shine Muscat' resulted from a cross of Akitsu-21 and 'Hakunan' (V. vinifera) made in 1988. Akitsu-21 is a hybrid of 'Steuben' (V. labruscana) × 'Muscat of Alexandria' (V. vinifera). The original vine was primarily selected in 1997 in a NIFTS vineyard at Akitsu, and was tested as selection Akitsu-23 in 30 locations of 27 prefectures under the Ninth Grape Selection National Trial initiated in 1999. It was ultimately selected, and released as 'Shine Muscat' in 2003, and registered as No. 13,891 under the Plant Variety and Seed Act of Japan in 2006.
'The 'Shine Muscat' fruit ripens in mid to late August, comparable to 'Kyoho' at Akitsu. Berry weight averaged 10.0 g and 12.4 g in seeded and seedless fruit production, respectively. The berry has a muscat flavor, and crispy and juicy flesh. Soluble solids concentration and titratable acidity averaged around 19% and 0.4g/100 mL, respectively. Acidity is significantly less than 'Kyoho'. Astringency is not sensed. Like 'Kyoho', berry skin cracking is not likely to occur. Shatter of berries from clusters at full maturity is less than 'Kyoho'. Berry can be eaten with the skin on. Shelf life is longer than 'Kyoto'. The 'Shine Muscat' vine is vigorous and seems to have cold hardiness comparable to 'Kyoho'. Fruit set is easy irrespective of the vigor of bearing shoots in seeded fruit production. Flower cluster should be trimmed and berry thinned to obtain attractive fruit clusters as well as in most of the commercial cultivars in Japan. The time required for trimming flower clusters and thinning berries is not long, and is comparable to 'Kyoho'. Reference: Yamada et al. (2008) New grape cultivar 'Shine muscat'. Bull. Natl. Inst. Fruit Tree Sci. 7:21-28.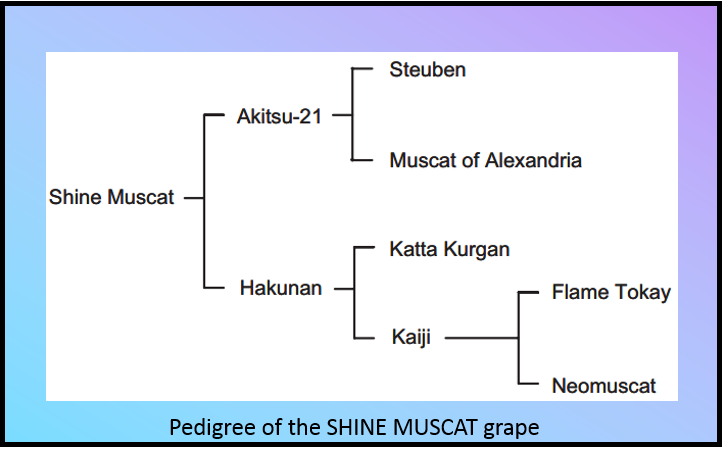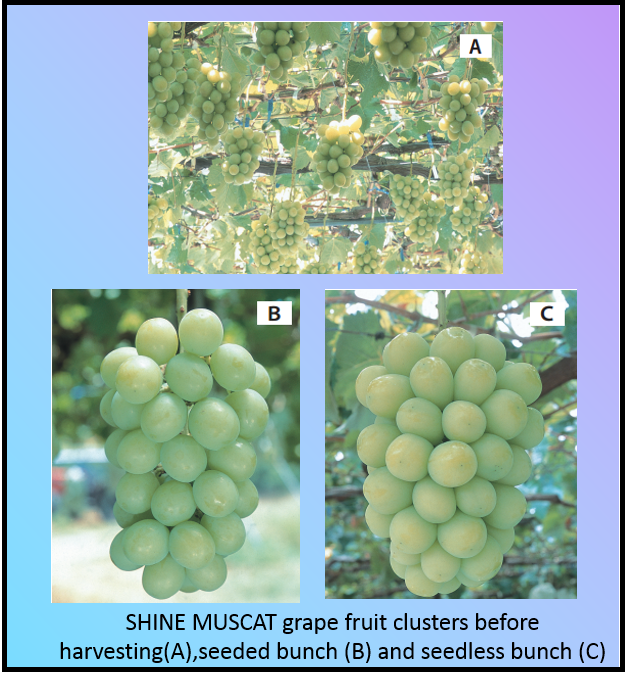 Click here to read more about cv. Shine Muscat.