Nitrogen is a prerequisite for all living things on earth. The remarkable population growth and economic development of the past half century in East Asia have been realized with a large increase in the anthropogenic production and use of "reactive nitrogen" for supplying food, energy, and other materials. However, negative impacts to the local, regional, and global environments as a consequence of the excessive use of anthropogenic reactive nitrogen have been concerned and the development of appropriate management system of reactive nitrogen has been an urgent issue in East Asia and the world.
The global-scale international project "Towards INMS" which aims at maximizing the benefit and minimizing the threat from the use of reactive nitrogen has been launched for the 4 year period from December 2017, led by the United Nations Environment Program (UNEP) and implemented by the International Nitrogen Initiative (INI). The activities of "Towards INMS" include "Regional Demonstration in East Asia" which has been started in collaboration with the nitrogen experts from Japan, China, South Korea, and the Philippines. However, more researchers, policy makers, and stakeholders from different areas are necessary and very welcome to voluntarily participate in this initiative.
This symposium aims to:
- Share the current information and knowledge and exchange opinions among participants on the nitrogen cycling and its environmental impacts in East Asia and the world;
- Discuss on the research results and future directions for solving the regional and global scale nitrogen-related problems;
- Contribute to the "Towards INMS" project for realizing sustainable nitrogen use through optimization of nitrogen cycling at various scales;
- Provide a forum for planning future cooperation reinforcement between participants, organizations, regions, and countries.
This symposium will be held as one of the activities of MARCO which was organized on December 2006 in Tsukuba, Japan, according to the agreement of the participants from 15 countries in Monsoon Asia. Since then, MARCO has promoted international collaboration for advancing research activities on the issues of agriculture and the environment in Monsoon Asia, by hosting a couple of international symposia or workshops every year, setting up a website as a venue for exchanging consortium information, and helping train the people who will carry on activities under the consortium. For more information, visit MARCO website.
In addition, this symposium is also positioned as the "2nd International Conference of Nitrogen Cycling and Its Environmental Impacts in East Asia" to continue the series of International Nitrogen Conference in East Asia, mainly supported by Towards INMS. The first one was held in Nanjing, China on October 19-22, 2017. Moreover, a preliminary conference was held in Tsukuba, Japan on August 23-24, 2016.
A special session (Poster Session) to be organized by the JSSSPN and will contribute to the international activities of the "International Decade of Soils 2015-2024" by the International Union of Soil Science (IUSS).
This symposium will also contribute to the world wide activities of the UN Sustainable Development Goals (SDGs) in the 2030 Agenda for Sustainable Development.
Date and Venue
November 19-22, 2018
Tsukuba International Congress Center (Epochal Tsukuba), Conference Room 202
2-20-3 Takezono, Tsukuba, Ibaraki 305-0032, Japan
Organizer
National Agriculture and Food Research Organization (NARO)
Co-organizers
Japanese Society of Soil Science and Plant Nutrition (JSSPN)
Nanjing Institute of Soil Science, Chinese Academy of Science (CAS)
National Institute for Environmental Studies (NIES)
Japan International Research Center for Agricultural Sciences (JIRCAS)
Program
Nov 19 (Mon)
14:00-18:00 Registration, Poster setting, Icebreaker
18:00- Towards INMS Workshop I
Nov 20 (Tue)
9:00-17:20 Opening Session, Keynote Lectures, Oral & Poster Sessions
17:40-19:00 Towards INMS Workshop II
19:00- Social Gathering
Nov 21 (Wed)
9:00-17:00 Oral & Poster Sessions, General Discussion & Wrap-up Session
17:00- Closing Remarks
Nov 22 (Thu)
9:00-17:00 Scientific Field Excursion in Kasumigaura Basin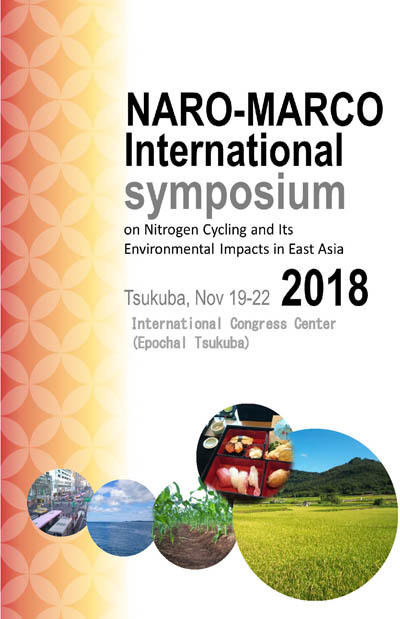 NARO-MARCO International Symposium 2018 Program and Abstracts (PDF)
Keynote Speakers
Prof. Wilfried Winiwarter, International Institute for Applied Systems Analysis (IIASA), Austria
Prof. Xiaoyuan Yan, Nanjing Institute of Soil Science, CAS, China
Prof. Timothy Jickells, University of East Anglia, United Kingdom
Registration
Free of charge for attending the Symposium, Special Session, Towards INMS Workshop, and Scientific Field Excursion.
Contact
For any enquiries, please contact the Secretariat (E-mail: marco@ml.affrc.go.jp).