The 6th Thailand-Japan Joint Conference (TJCC) on Animal Health was organized at the NIAH headquarters in Tsukuba on November 20-21, 2018. This conference is jointly organized by the Department of Livestock Development, National Institute of Animal Health of Thailand and the NIAH/NARO alternately in Japan and Thailand every year for the purpose of exchanging knowledge, information, ideas, skills, and technology among researchers and technical staff in the field of veterinary science of both countries as stipulated in the MOU between the Ministry of Agriculture and Cooperatives, Thailand and the NIAH/NARO. As part of this year's TJCC on animal health, an open seminar with the theme "One Health - From the viewpoint of animal health" was held.
The keynote talks were given by Dr. Banjong Jongrakwattana, Director of Thailand's National Institute of Animal Health and Dr. Hiroaki Ogura, Director-General of NIAH/NARO. Special lectures on Antimicrobial resistance and Animal influenza were presented by Dr. Michiko Kawanishi of the National Veterinary Assay and Dr. Takehiko Saito of NIAH/NARO, respectively. There were 12 oral presentations including 7 topics from Japan and 5 topics from Thailand, and a poster session with 10 topics from japan and 13 topics from Thailand.
This conference is a place to exchange information on animal health in Japan and Thailand and proposals for joint research projects. As a venue for networking among young researchers, this conference is expected to contribute to the improvement of animal health throughout Asia in the future.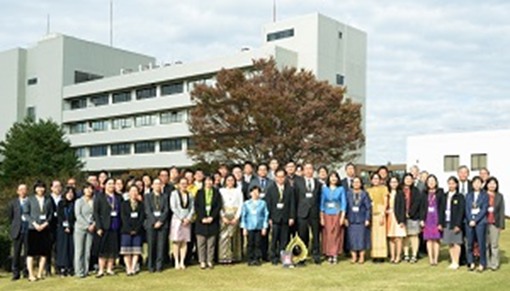 Participants of the 6th Thailand-Japan Joint Conference (TJCC) on Animal Health pose for a commemorative photo at the NIAH campus in Tsukuba (right). Leaf of a plant (left), which is said to be auspicious in Thailand with a bell in the center as a symbol of peace and harmony.