Title
Research on vegetables in Southeast Asia
Speaker
Dr. Atsushi SAITO
Senior Researcher, NARO Headquarters
Overview
Many vegetables that we consume daily are imported from overseas. For example, origin of eggplant and cucumber is Southeast Asia and many vegetables with characteristic taste and traits are cultivated also in the surrounding areas of Southeast Asia. Such genetic resources in various parts of the world are valuable and hence steady research survey is being conducted. In this lecture, as an example of such activities, we will introduce the genetic resources such as eggplant and chili pepper in Laos collected by the researchers and our efforts in breed improvement of tomatoes, which are carried out in collaboration with research institutes in Vietnam.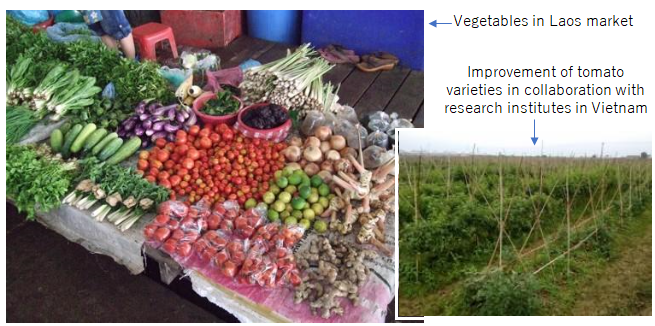 Date and Time
June 10, 2017 (Sat) 9:30~10:30
Participation Fee
Free. Everyone is welcome.
Venue
Tsukuba Agricultural Research Hall
3-1-1 Kannondai, Tsukuba, Ibaraki 305-8517
For Inquiries
Public Relations Section, NARO Headquarters
Tel: 029-838-8980
Picture