-Combining subsoil improvement using the "Cut Series" attachments for tractors and the new tillage method to leave some areas with cover crops and stubbles untilled-
The National Agriculture and Food Research Organization (NARO) has established an effective methodology as a soil erosion countermeasure for farmlands on hillsides. The developed methodology combines (1) Subsoil improvement to gain better drainage using the "Cut Series" attachments for tractors and (2) New tillage method to leave some areas with cover crops or stubbles untilled. The result of the field experiment shows the limited effect when practicing them separately. On the other hand, implementing both treatments to the same fields resulted in a significant reduction of soil runoff by 80% compared to the fields without any treatment.

The details of the treatments are organized and published as a brochure, available online on the NARO website. It includes instructions, refers to the points requiring attention, and an example showing how to plan these treatments within the crop calendar for crop rotation.
Overview
Climate change has been causing extreme weather events, including frequent torrential rains in various parts of the country. The heavy downpour of rain often leads to soil erosion causing severe damage, especially in hillside farmlands. Major infrastructural restorations may be an option for a fundamental solution, but there are time and budget constraints. With this background, there has been a strong demand for a simple soil erosion solution that farmers can easily implement by themselves.

As a response, NARO, in collaboration with the Hokkaido Research Organization (HRO), has developed an effective methodology as a solution for soil erosion in hillside farmlands that farmers can easily combine into their farming practice.

The developed methodology combines subsoil improvement and a new tillage method. Subsoil improvement increases water absorption and reduces surface runoff by cutting and breaking up the compacted soil using the "Cut Series" attachments for tractors which were developed especially for the usage. For example, the "Cut Soiler" is for building an organic filter underdrain using crop residues. In the new tillage method, the operator leaves some areas untilled (in strips and spots) in the area where soil erosion is likely to occur. The untilled areas function as embarkments to store water and foster infiltration, which eventually reduces surface runoff.

In the field experiment in Biei Town, Hokkaido, where soil erosion is a major problem, the effect of the treatments was restricted when performed separately: Subsoil improvement contributed to reduce surface runoff by 20 ~ 30%, whereas the new tillage method only reduced surface runoff by around 20%. However, the effect significantly increased to 30 ~ 80 % when the team implemented both treatments in the same field.
Publications
The soil erosion countermeasure brochure (only in Japanese)

The "Cut Series" tractor attachments brochure (only in Japanese)
For Inquiries
Contact: http://www.naro.affrc.go.jp/english/inquiry/index.html
Reference Information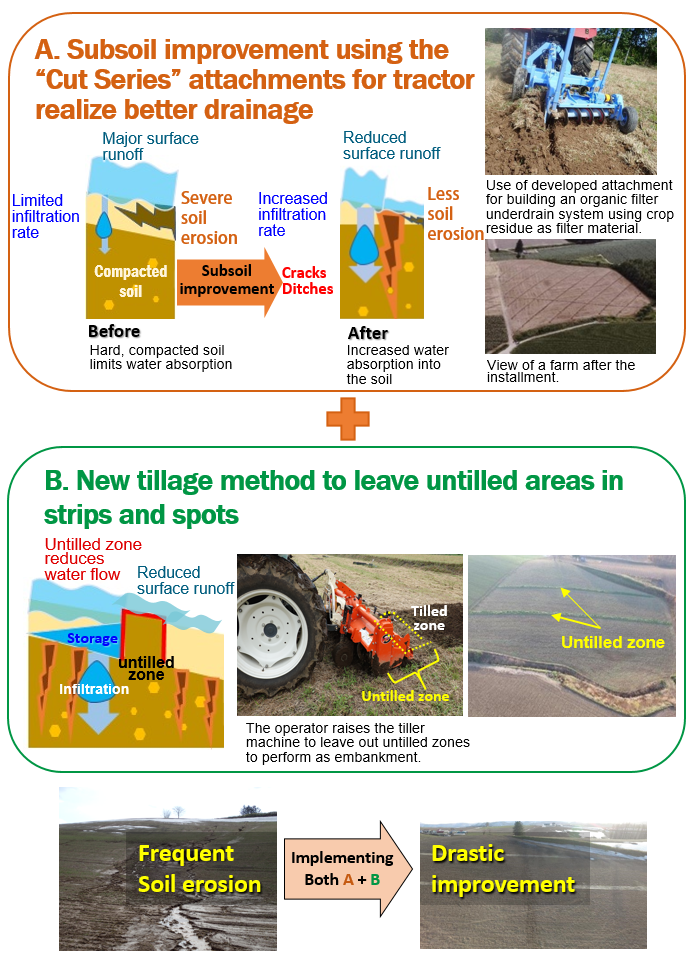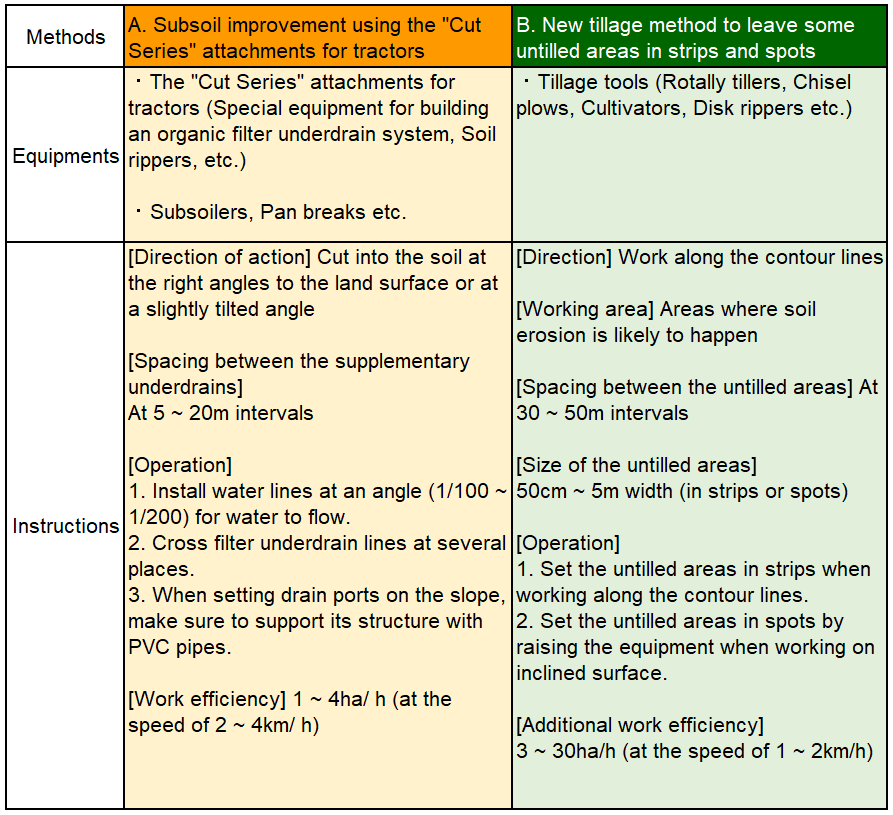 Fig.1 Overview of the soil erosion countermeasures
(A) Subsoil improvement usnig the "Cut Series" attachments for tractors
(B) new tillage method to leave out untilled zones as embarkment
Table 1 Effects of soil erosion countermeasures in different conditions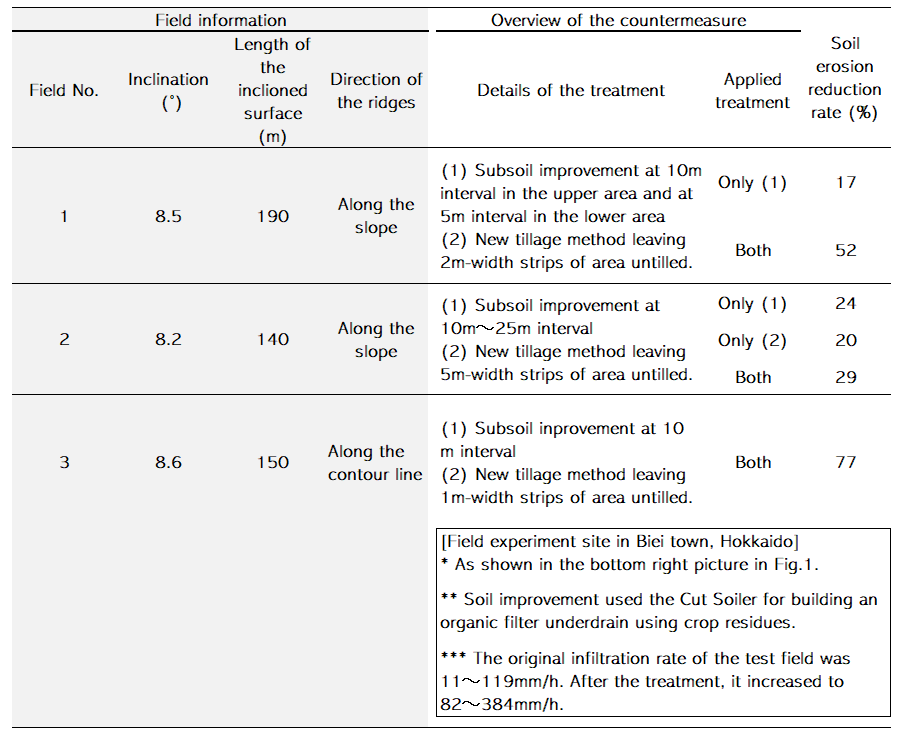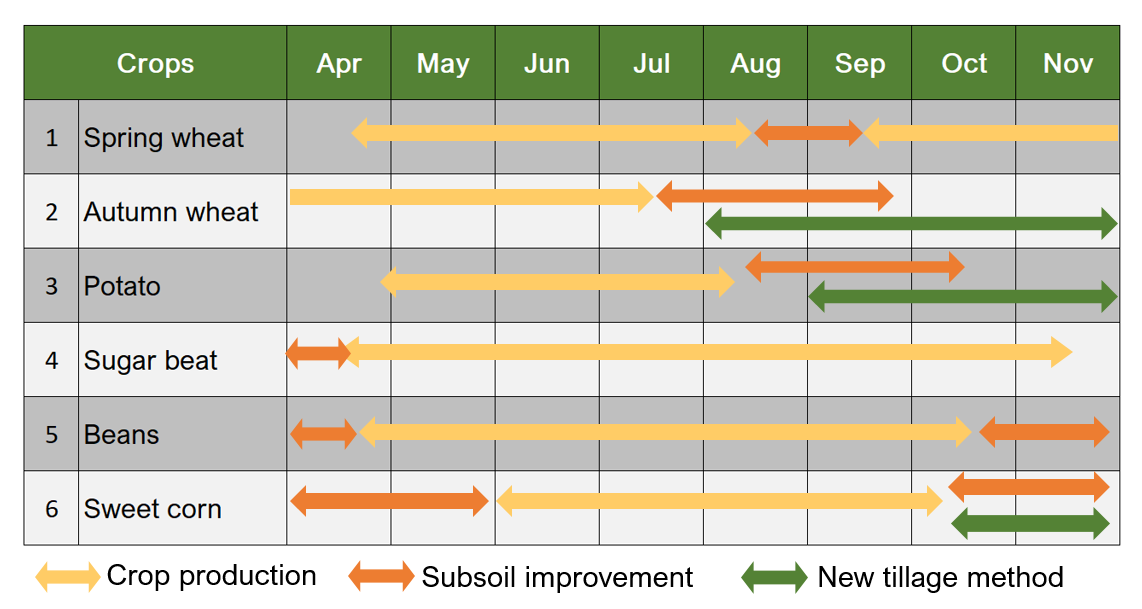 Fig.2 Example of planning the treatments within the crop calendar for crop rotation