Date
July 10, 2014 (Thursday)
9:20-10:40
Site
NARO Western Region Agricultural Research Center (NARO/WARC) in Fukuyama City
Visitors
Team of 21 people
Dr. Kim, Nam-Su
(Director of Bureau Consumer & Science Policy Bureau, Ministry of Agricultural and Rural Affairs)
Mr. Lee, Youn-Ggu
(Agricultural Attache Embassy of South Korean)
Summary of the visit
Japanese and Korean Agricultural Technical Cooperative Committee was created in 1968 to foster technology exchange between the two countries, in the area of agriculture, forestry, and fisheries. The first meeting was held in December 1968; and since then, yearly meetings have been held, alternating between the two countries. The venue this year was Okayama City, and this visit was part of the program.
After Director-General Ozeki first welcomed the team, Director Takenaka of the Department of Planning and General Administration delivered a presentation on NARO and NARO/WARC, and their recent research achievements. As part of the summary of achievements, the team tasted bread made from the "Setokirara" wheat variety, which is good for bread making, and sweets made from the "Daishimochi" barley variety; both of which were bred by NARO/WARC. The team also enjoyed watching footage featuring the new Harmonia axyridis, bred by NARO/WARC, which is flightless and preys on aphids as its natural enemy. The Harmonia axyridis acts as a form of biotic pesticide.
In exchanging opinions, Korean members asked about Japanese government efforts at promulgating research achievements and newly developed technology to assist farmers. It appeared that even in Korea, where such assistance seems extensive, the promulgation of technology faces some challenges.
The 90-minute program performed by Director Matsumura of the Lowland Crops Research Division describing the cultivation, while watching at experimental fields. Despite an approaching typhoon, the weather held fine.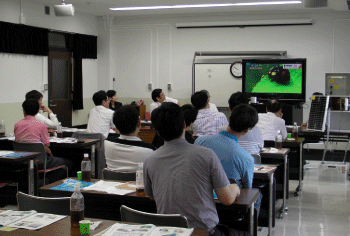 Introducing research (flightless Harmonia axyridis)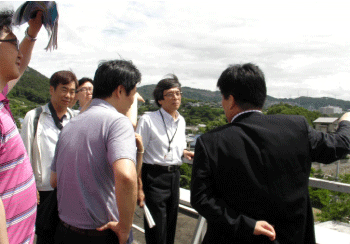 Cultivation presentation by NARO/WARC from a rooftop vantage point