On January 10, 2020, NARO concluded a Memorandum of Understanding (MOU) with Kasetsart University, Thailand, aiming at strengthening the partnership between NARO and Kasetsart University.

At the MOU signing ceremony, Dr. MATSUDA Atsuro, Vice President (in charge of international collaboration, intellectual property, international standardization, and public relations) and Dr. Chongrak Wachrinrat, Acting President of Kasetsart University, confirmed the commitment to strong collaboration over the next five years to contribute to sustainable agriculture and the food industry in Japan and Thailand.

After the signing ceremony, NARO presented a keynote lecture on "Society 5.0 and Agriculture", and KU gave a lecture on "Kasetsart University's Leadership in Developing Technology and Smart Farming in Thailand."

Through this MOU, NARO and Kasetsart University will seek research collaboration and information exchange in the field of agriculture and food research including animals, plants, environment, and social sciences, along with the exchange of researchers.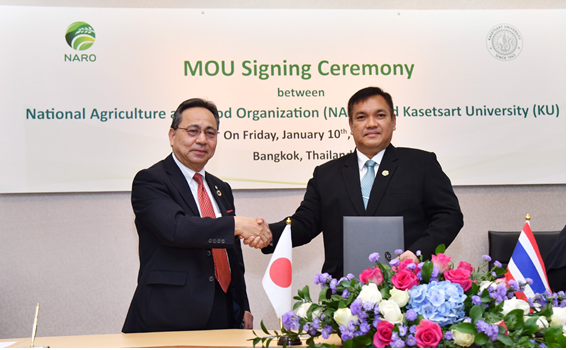 MOU signing ceremony at Kasetsart University, Bangkok, Thailand
(Left: Dr. MATSUDA, Vice President of NARO
Right: Dr. Chongrak Wachrinrat, Acting Director of Kasetsart University)
(January 10, 2020)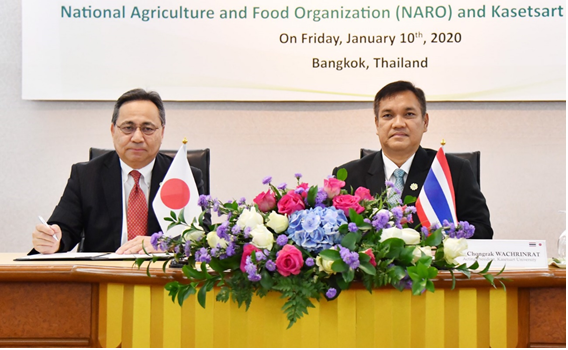 MOU signing ceremony at Kasetsart University, Bangkok, Thailand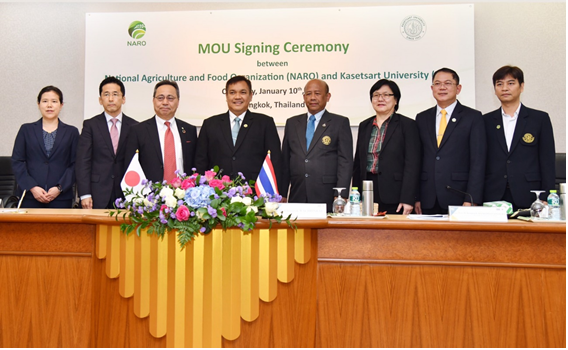 Group photo