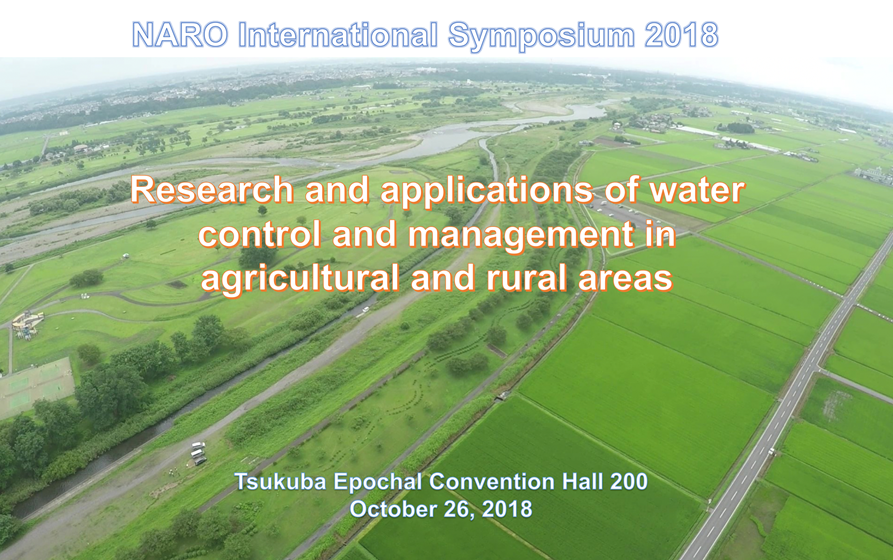 Research and applications of water control and management in agricultural and rural areas
In recent years, the impact on abnormal weather on the balance of water supply and demand, droughts, disasters caused by torrential rains are occurring all over the world. Many issues related to effective and efficient water utilization and prevention of water disasters in agricultural and rural areas must be addressed in order to realize safe and secure rural areas towards improvement of agricultural productivity.

In this international symposium, prominent researchers from overseas and Japan will talk about the global trends, recent advancements and efforts for practical applications in water management research in rural engineering.
Date and time
October 26, 2018 (Fri)
13:00 ~ 17:25
Venue
Tsukuba International Congress Center (Convention Hall 200)
2-20-3 Takezono, Tsukuba, Ibaraki
Program
Simultaneous interpretation is available.
13:00 ~ 13:05
Welcome Address
13:05 ~ 13:55
Keynote speech
Prof. Bart Schultz (IHE Delft Institute for Water Education, Netherlands)
Research in water management towards responding to global water utilization and water disasters
13:55 ~ 14:35
Dr. Vazken Andréassian (IRSTEA, France)
Research trends of hydrological water resources research in Europe and practical applications
14:35 ~ 15:15
Prof. Takao Masumoto (Akita Prefectural University, Japan)
Research trends in hydrological water resources research in Asia and practical applications
15:15 ~ 15:40
Break / Photo session
15:40 ~ 16:20
Prof. Ming-Daw Su (National Taiwan University, Taiwan)
Risk analysis and management of local flood disasters
16:20 ~ 16:40
Dr. Toshikazu Hori (Institute for Rural Engineering, NARO)
Research for practical application of disaster prevention in rural areas
16:40 ~ 17:00
Dr. Keisuke Omori (JIRCAS)
Application of low-cost shallow concrete drainage technology on dry and saline damaged farmlands
17:00 ~ 17:20
Dr. Tetsuro Nakaya (Institute for Rural Engineering, NARO)
Automation of water management using ICT
17:20 ~ 17:25
Closing remarks
Organizer
Institute for Rural Engineering, NARO (NIRE)
Registration
Please send your contact details by fax or e-mail:
(1) Name, (2) Affiliation, (3) Phone number and e-mail address (4) CPD number
No participation fee.
Capacity
150 persons
For inquiry
Planning and Cooperation Section, Department of Planning and General Administration
Institute for Rural Engineering, NARO
Tel: 029-838-7611 FAX: 029-838-7609
E-mail: naro-sympo@ml.affrc.go.jp