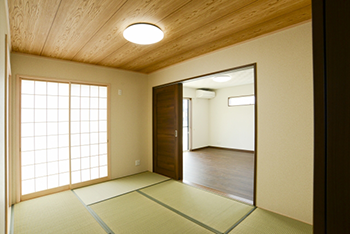 Rental housing in Japan usually requires a guarantor in addition to paying gratuity fee, caution-money, and/or security deposits to the owner at the time of the contract. Contracts with owners are generally concluded by lessee and landlord through real estate company. Rent varies depending on the area and location, the age of building, and the floor plan. For example, rental rate of 1 LDK (1 bedroom + dining kitchen) apartment ranges from ¥60,000 to ¥70,000 in Tsukuba City and from ¥50,000 to ¥60,000 in Fukushima City, Fukuyama City, and Kurume City.
Due to the high population density, a typical house in Japan is small in size, and apartments are also "narrow". It gives an impression that kitchen, bath toilet, and living room are neatly arranged in a compact floor space.
In Japan, where it is very humid in June-July, there are many wooden rental housing units. Because these apartments prioritize ventilation, they are hot in the summer and cold in the winter. Additionally, due to the thin walls, we can occasionally hear the voices of their neighbors.
In addition to western-style rooms, Japanese houses also have Japanese-style rooms (Washitsu) that are unique to Japanese traditional houses. Washitsu room has a function to efficiently utilize narrow space because it is filled with flooring materials, Tatami. On the other hand, since tatami is a mat knitted with Igusa, soft rush, it can get molds and mites to occur due to moisture, especially during the rainy season, June and July. On a sunny day, it is necessary to open the window, ventilate and use a vacuum cleaner to prevent molds and mites.
Finally, many rental houses are not equipped with furniture or home appliances. There are some apartments equipped with furniture and home appliances for a limited period of time called "Monthly Mansion" or "Weekly Mansion". However, the rental fee of such rental houses are relatively high and other miscellaneous expenses may be necessary.