-Exchange program "NARO-INRA Joint Linkage Call" for early career researchers was launched-
NARO and the National Institute for Agricultural Research, France (INRA)*, a top European research institute in Agricultural have signed a MOU in 2016 sciences and have held joint symposia in France, promoted joint research and exchange of information and researchers. In September 2018, NARO President Dr. Kyuma visited INRA, and in April 2019 INRA President Mr. Mauguin visited NARO to confirm the strong cooperation between the two organizations over the future.
On 27th June, Dr. Kazuo KYUMA, President of NARO and Ms. Ségolène Halley des Fontaines, Director of International Affairs, INRA announced the launching of "NARO-INRA Joint Linkage Call", an exchange program for early career researchers. This program aims to foster the research partnership through exchanges centered on young researchers.
This program was proposed and realized at mutual visits of the presidents of both institutions since last year. It supports reciprocal visits of researchers for jointly selected research projects on new topics to strengthen NARO-INRA collaborations. This year, nine projects were approved including following topics; improvement of livestock productivity, crop disease resistance and utilization of bioinformatics.
*INRA
National Institute for Agricultural Research, France
Employees: 7,903 (including 1,879 researchers)
Annual Budget: Around 858 M EUR
President: Philippe Mauguin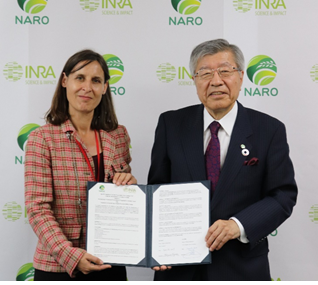 Related Links
A Workshop was held successfully with President of INRA, France