Zoonoses that can be transmitted between animals and humans are estimated to account for more than half of all infectious diseases. Therefore, the concept of "One Health", in which many professionals in public health, animal health, and the environment work together to tackle hygiene measures, is spreading globally. Enteric pathogens such as pathogenic Escherichia coli, Salmonella, and Campylobacter cause foodborne infectious diseases (bacterial food poisoning). Additionally, the transmission of antimicrobial resistance has become a problem in recent years, and therefore countermeasures from the viewpoint of One Health approach are required.
In order to prevent the spread of enteric pathogens in livestock, enteric pathogen group is developing a technology to identify epidemic strains and high-risk groups by conducting large-scale genome analysis of pathogenic Escherichia coli and Salmonella, and clarifying the evolution of bacteria due to transmission of pathogenicity and antimicrobial resistance. We are also working to develop technologies to eliminate Campylobacter from the intestinal tract of livestock in order to produce safe meat.
In addition to research related to animals, our group is working to address issues related to One Health, such as assessing the impact of reducing the antimicrobial usage on farms and analyzing antimicrobial-resistant bacteria (resistance gene) in the environment surrounding farms. We also carry out disease diagnosis and field surveys to support the prevention of enteric pathogens.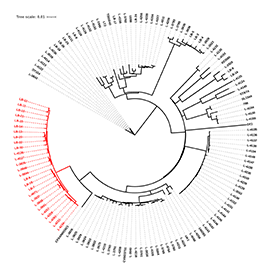 Members