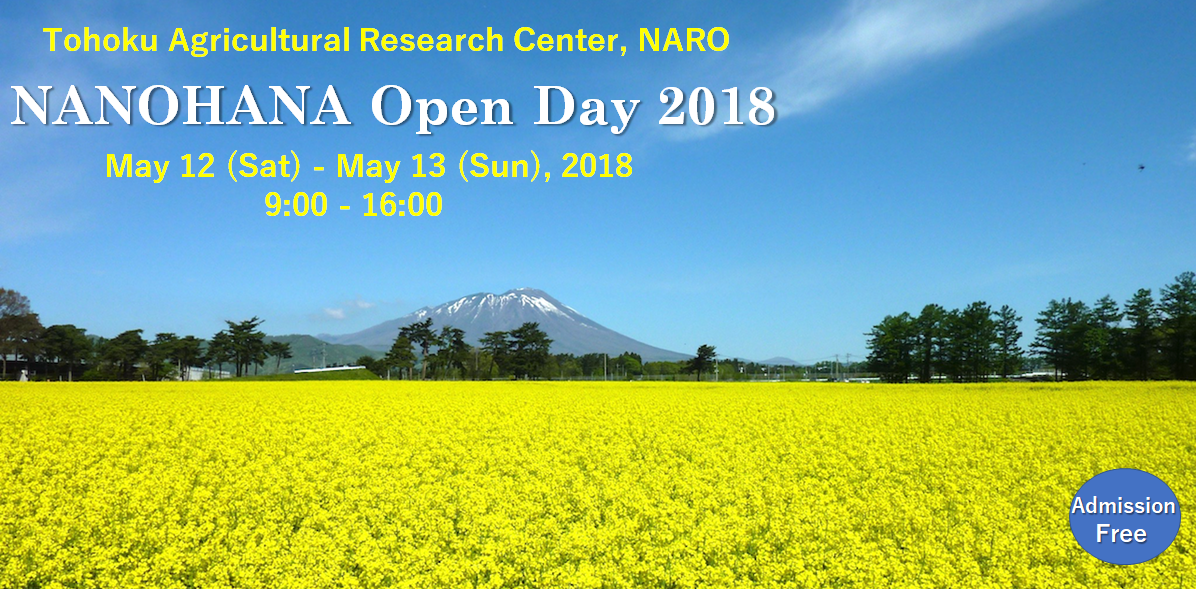 The Tohoku Agricultural Research Center, NARO (TARC/NARO) is organizing NANOHANA Open Day 2018 on May 12 & 13, 2018. The rape plants (nanohana) are grown to prevent repeated cultivation failure in the experimental breeding fields for wheat and barley, and for green manure production at TARC.
Various activities will be held such as exhibits of research achievements and efforts on breeding rape cultivars. TARC is the only institute in Japan continuously working on rapeseed breeding.
We hope you enjoy the beautiful scenery of rape blossom and our exhibits!
Date
May 12 (Sat) & 13 (Sun), 2018
9:00 - 16:00 (both days)
Venue
Tohoku Agricultural Research Center, NARO
4 Akahira, Shimo-Kuriyagawa, Morioka, Iwate, Japan
( →
Access
)
Temporary parking area: Available for about 200 cars (free of charge)
※
The fields are located about 1 km north from the main gate (about 15-min walk)
Display Guide
Rape fields
Area to be opened: 420a Cultivar planted: Kirariboshi (Brassica napus)
Exhibition
The exhibits feature the major recent research achievements, efforts on breeding rape cultivars, agricultural machineries, rapeseed-oil production business etc.
Precautions

Visitors who have stayed in any of the countries or areas which are NOT recognized as foot-and-mouth disease FREE, are prohibited from entering the TARC premises within three days before and on the open day.
Please keep out of any places which are not opened for public (including fields, meadows and buildings etc), and keep away from animal keeping areas on the premises.
Do not step into the rape blossom fields.
Do not touch cultivated plants, including rape, on the premises.
Do not touch equipments in the areas.
Go slowly and carefully in the parking area while leaving or entering the premises. Please note that we do not take any responsibility or liability for any vehicle accidents.
Drone ban: Do not operate drone(s) on the premises.
No walking of dogs on the premises.
No smoking on the premises.
Please carry your trash home.
More details are available in Japanese.