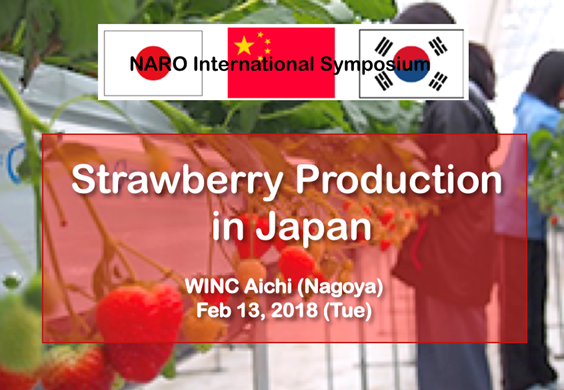 Strawberry is an important item in domestic production next to tomato and it is also an essential fruit for both producers and consumers. Moreover, the high quality strawberry produced in Japan is recognized worldwide and is attracting attention as a promising export item. However the domestic strawberry regions faces many common problems such as decrease in cultivation area due to aging of producers/farmers, gradual decrease in production volume, and a decrease in consumption etc.
In this symposium, the research results of domestic and overseas strawberry production will be reported. We will have discussion to strengthen cooperation with regional research institutions and to advance efficient technology development in addition to organizing the present state and issues of technology development. Moreover, we invite the principal researchers of strawberry research from East Asia, especially from Korea and China, where production system and consumption pattern are similar to Japan. This symposium will be a venue for exchange opinions on information about production trends, breed development, present state and issues of cultivation technology and would also discuss the possibilities of international collaboration and cooperation.
Organizer
Institute of Vegetable and Floriculture Science, NARO (NIVFS)
Date & Time
Feb 13, 2018 (Tue)
13:00~17:50 (Registration starts at 12:30~)
Venue
WINC Aichi
Conference Room 902
4-4-38 Meieki, Nakamura-ku, Nagoya-shi, Aichi 450-0002, Japan
TEL: 052-571-6131
Take the Sakuradori Exit from JR Nagoya Station.
5 minutes walk on the direction of Midland Square
2 minutes walk on the direction of Yunimoru Underground Shopping Center Exit No 5
Registration
There is NO registration fee.
To participate, please send e-mail to naroberry@ml.affrc.go.jp with the title "Application to Symposium on Strawberry Production" with the full name and affiliation. Application is until Jan 31 on a first-come first-served basis and limited to 150 participants. It is also possible to register on-site on the day of the symposium.
Program
Moderator: Kunihiko OKADA, Institute of Vegetable and Floriculture Science, NARO
Opening Address
Yoshiteru SAKATA, Director, Institute of Vegetable and Floriculture Science, NARO

13:10
~
14:50

Session I: Present status of strawberry production in Japan
Chairperson: Makoto OKIMURA, Kyushu Okinawa Agricultural Research Center, NARO



The future of the strawberry breeding in Japan
Yuji NOGUCHI, Institute of Vegetable and Floriculture Science, NARO
Cultivation and management technology in strawberry production
T?ru IKARI, Shizuoka Prefectural Research Institute of Agriculture
and Forestry
High-level cultivation system and environmental control
Yuichi YOSHIDA, Okayama University
Collaboration with overseas organizations on breeding and technology development)
Kenji KORI, Ministry of Agriculture, Forestry and Fisheries
※Please note that this session will be presented in Japanese.

14:50
~
15:50


Break ・ Poster ・ Discussion Session

15:50
~
17:10

Session II: Present status of strawberry production in East Asia
Chairperson: Yasunaga Iwasaki, Institute of Vegetable and Floriculture Science, NARO



Present status of strawberry production in Korea
Yeoung Young ROG, Gangneung-Wonju National University
Present status of strawberry production in China
Jiajun LEI, Shenyang Agricultural University

17:10
~
17:50

Session III: General Discussion
Moderator: Tatsuya MOCHIZUKI, Tokyo Metropolitan Agriculture and Forestry Research Center
Closing Remarks
For Inquiries
Yuji NOGUCHI, Chairman of Executive Committee
E-mail: ynogu@affrc.go.jp

Secretariat
Yasunaga IWASAKI (Institute of Vegetable and Floriculture Science, NARO)
TEL: 029-838-8681 E-mail: iwasakiy@affrc.go.jp